More and more law firms are falling victim to cybercriminals, with 80% of the top 100 law firms experiencing a data breach since 2011. According to Legaltech News, in 2020 alone, hundreds of law firms were targeted, leaving sensitive information exposed and law firms and their clients vulnerable.
With more in the legal profession working remotely, and being forced to in such haste amidst a pandemic, hackers have been able to find weaker points in digital security, allowing them to break into law firm databases using ransomware to cripple organizations.
The need to exchange information safely in the legal industry is now more important than ever and simply relying on anti-malware to protect your law firm isn't enough.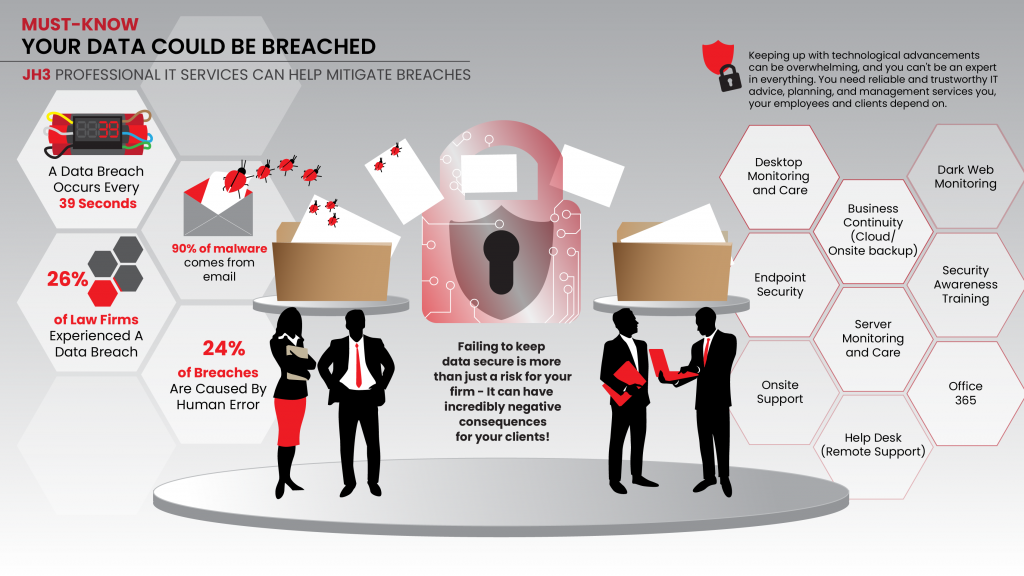 Start protecting your law firm today with these 10 Cybersecurity Mitigation Strategies from the National Security Agency:
Update and Upgrade Software Immediately
Defend Privileges and Accounts
Enforce Signed Software Execution Policies
Exercise a System Recovery Plan
Actively Manage Systems and Configurations
Continuously Hunt for Network Intrusions
Leverage Modern Hardware Security Features
Segregate Networks Using Application-Aware Defenses
Integrate Threat Reputations Services
Transition to Multi-Factor Authentication
When it comes to cybersecurity, it is key that your law firm has a solution in place that can identify a threat, protect your firm and clients against it, detects when there may be an issue, responds appropriately, and recovers immediately.
At JH3 Technology Solutions, we understand how critical it is to keep our law firms safe and protected from the dark web and provide the comprehensive solution you need to ensure that your law firm remains protected from a cyberattack. Learn more about how we provide IT solutions to NC Law firms here.