Over twenty-years of experience providing Managed IT Services, Data Backup, Business Continuity, Security Awareness Training, and Dark Web Monitoring.
Our passion is problem solving; delivering valuable custom IT solutions to our clients. We offer support and services for small/medium businesses in the Lake Norman, NC area:  Charlotte, Concord, Cornelius, Davidson, Denver, Huntersville, Mooresville, Statesville, Troutman.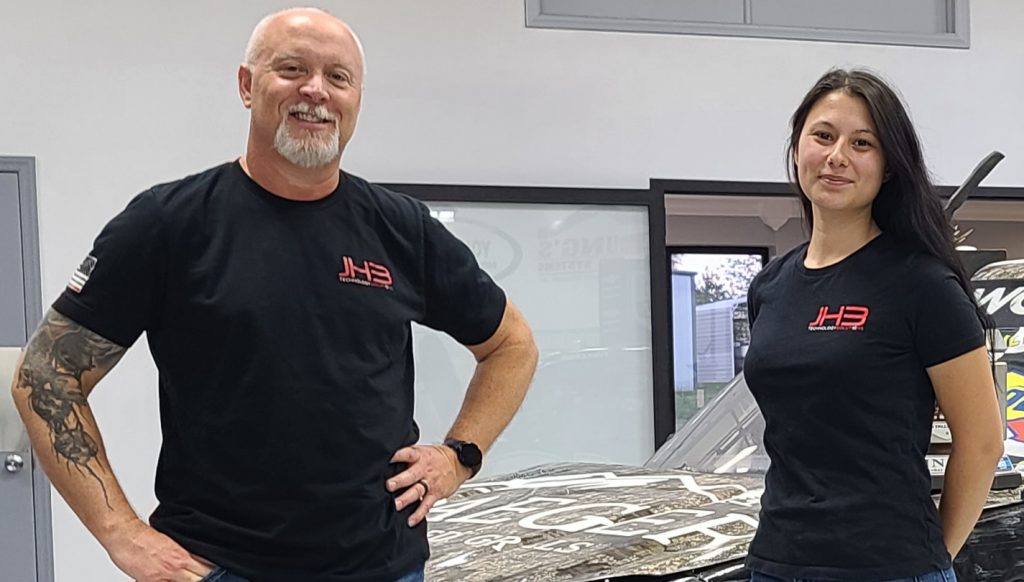 Jay is an IT Service provider and he loves to go see live (mostly hard rock) music anytime he can. With over 20 years of experience starting with a corporate office that had only terminals with no processing power to cloud hosted services today, he has seen things you could never dream of, both onstage and on a computer.
As the owner of JH3 Tech Solutions, he strives to provide cost effective and proactive managed IT services to all of current and future partners. He does not get caught up in all of the technical lingo and speaks in every day terms to help others understand their technology needs. He has worked at the corporate level and supported many small businesses and home users. Through all of these experiences he has developed excellent trouble-shooting skills, knowledge, and important industry relationships. He is sure JH3 can help your business grow and navigate the ever changing IT landscape.
Meet Deanna Shoaf
Deanna started her Information Technology studies in 2017 at Mitchell Community College and obtained her Information Technology Foundations Certificate in May 2019. In October 2019, she started her career full time at JH3 Technology Solutions as our IT Support Technician. Deanna is the first line of defense answering all incoming technical support calls and resolving client issues – either by remote login or at the client's site. She plans on obtaining her CompTIA A+ certification in June 2020 and furthering her education in Information Technology.
She graduated from Mooresville Senior High school in 2012 and before starting her path in IT, she had worked for 10+ years in customer service and communications. She held different roles throughout the years from crew member to manager and acquired a great deal of communication and people skills. She has worked in multiple environments, retail, quick-serve, animal services, bar-lounge, and others.
Mission Statement
"We aim to provide dependable, quality IT services to the Lake Norman area and to treat each relationship with honesty and integrity"
Expertise. Experience. Effectiveness. Excellence.
These are some of the core qualities that businesses need from their support partners. Let's face it, a successful business should expect the same quality of products and services from their purveyors and providers that they give to their own customers. The same principle applies to every business, from law firms to CPA's to sports and everything in between.
Streamlined and Effective Managed IT Service for Your Business
JH3 Technology Solutions has the requisite expertise and experience to offer you excellent, effective support for the entire spectrum of your current and future IT service needs. Our goal is to let you do your job, without having to worry about computer maintenance and network problems. We are able to help you keep your computer system secure and up-to-date with expert tech support.
There is no reason why you should stay awake at night wondering if your laptop or PC is safe from viruses, malware and hackers. Nor should you have to take your eyes off of achieving your business objectives because your computer system has crashed. Not only can we fix those problems, we can help prevent them.
It doesn't matter how computer savvy you are, or think you are, the fact is that Information Technology is evolving so rapidly that even the most well-informed business people simply cannot keep up and run their businesses effectively at the same time. You need help. And, if you think that "backup" means "reverse," or if you think that "the cloud" is that big, fluffy white thing in the sky, you really need help. That is why we are here.
Not only will you be amazed at the scope of our services, we're pretty certain that you will be pleasantly surprised at how much time and money you can save when you make us your IT services partner. We can monitor, manage and maintain your entire computer system in real time without ever having to make a service call.
Call us at 704-360-3640. It might just be the best business decision that you have ever made.