IT SECURITY FOR BUSINESSES
Failing to keep your data secure is a risk to you and your clients.
With the popularity of remote work environments in most businesses today, it is even more important to pay attention to your businesses' network security.  Employees are accessing company data from multiple locations, which diminishes the ease of monitoring network security and increases the risk of intrusion.
At JH3, we've noticed a sizable increase in the amount of hacks over the last couple of years and are focusing our attention to those small businesses who's client data is most sensitive, especially businesses. We've done our research and want to help protect you from a multitude of negative consequences due to sensitive data loss.
A Data Breach at Your Business Will Most Likely:
Ruin your reputation.
Your potential clients aren't going to want to hire you when the news outlets report that your current client's data has been stolen due to your negligence.
Put your business on hold for a long time.
Besides your lost reputation with your clients, data breaches cause a whole host of other issues including down-time due to loss of access to your data, finding the holes in your security infrastructure, and rebuilding your network security plan.
Initiate litigation.
When your clients find out their personal information is now for sale on the dark web, there's a good chance you'll be defending yourself in a lawsuit, possibly costing you millions of dollars.
Multiple layers of security are required to keep your data safe.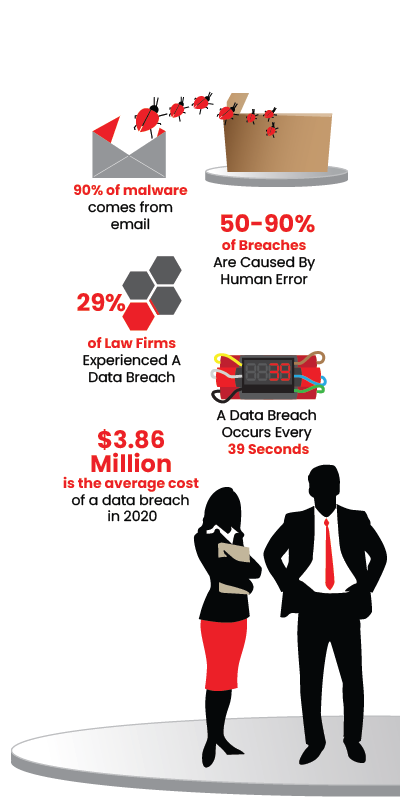 Secure your endpoints.
Any device that is connected to the internet or your network is considered an endpoint. Keep your network secure by installing software on all endpoint devices that not only detects attacks, but immediately blocks them.
Monitor and update all workstations and servers.
System updates and patches, when not handled promptly, leave you vulnerable to hacks. And, when intrusions do occur, addressing the issue immediately is imperative to protecting your network and your client's data.
Install a firewall and keep it up to date.
A firewall is a system that sets up security rules for your network to keep attackers from coming in and prevents users within your business from visiting websites that are not secure.
Create a business continuity plan.
Backing up your data is a requirement in today's day and age, but what about the downtime you experience when disasters occur? Find a backup solution that will have you back up and running in seconds versus hours or days.
Secure your cloud-based email.
Research shows that hackers target Microsoft 365 and Google Workspace accounts to gain entry into networks. In fact, over 70% of all attacks target Microsoft 365. Make sure that these cloud-based services are monitored, backed up, and protected.
Train your staff and monitor the dark web.
One of the biggest ways attacks are successful is because of people.  Your employees clicking on the wrong link on a website or in an email can cause your whole system to crash.  Then, all your client's data is then put up for sale on the dark web. Keeping tabs on what your staff does all day is a near-impossible task for most small businesses. Train them on the dangers of phishing emails and web scams.
Ensure Your Businesses' Data is Secure!
Contact us to schedule your a consultation and receive a bonus complimentary dark web scan to make sure none of your sensitive data is for sale.